Window and Door Taping Machine
Features:
1. This multifunction window-door taping machine has the feature of quick installation and convenient use.
2. Now 6 types of model can be chosen in accordance with your requirements.
3. Moreover, the dimension of each model is changeable and adjustable.
4. Tailor-made auxiliary equipment is available too if you offer drawings and dimensions.
Application:
The multifunction window-door taping machine, as a necessary tool in the construction of the building, is suitable to reshape and make up the door, window, gable wall, etc.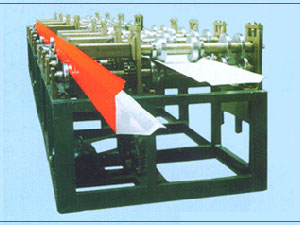 Main Technical Specification:
1. Size: 2600mm × 1200mm × 1200mm
2. Total weight: about 1500KG
3. Controlling system: PLC
4. Power: 1.5KW
5. Working speed: 18000mm/min
Yingkou Changsheng Steel Structure Project Co.Ltd is a professional manufacturer and supplier of multifunction window taping machine, door taping machine in China. Apart from auxiliary equipment products, like automatic tube bending machine, plate bending machine etc. we also offer EPS - rock wool sandwich panel machine like C purlin roll forming machine, Z purlin roll forming machine etc; high pressure polyurethane insulation painting machine including low pressure polyurethane foam machine and high pressure polyurethane foam machine; k-span machine, like automatic building machine, ultimate building machine and arch style buildings forming machine. With good quality and affordable price, the products produced by our company has exported Germany, Holland, India, Indonesia, New Zealand, Syria, United Arab Emirates, Russia, Kuwait, South Africa, and Bangladesh. If you are interested in our products, please contact us for details. 
Related Product
Color Coated Steel Coil
1. Any lacquer of color coated steel coil is available in accordance with customers needs.
2. We strictly meet the international ...

Low Pressure PU Foam Machine
1. The low pressure polyurethane foam machine, controlled by PLC, has the advantages of high accuracy, simple operation and ...