Guard Rail Roll Forming Machine
Description:
The highway guardrail forming machine, also called the highway guardrail former, is designed into corrugated steel beam guardrail used in highway and sign post industry. This machine has the simple structure and good performance. Our highway guardrail roll former from Changsheng Company offers good capacity and works safely and reliably.
Composition:
Electric decoiler,
Automatic hydraulic punching system,
Feeding and guiding part,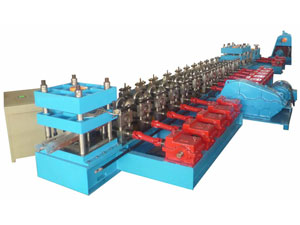 Leveling parts, forming roller system,
Hydraulic cutting,
Stacking table,
PLC control board
Application:
The highway guardrail can be manufactured to 2 – space, W beam guardrails, corrugated steel beam, sign posts and highway barriers.
Parameters:
1. Matching material: PPGI or HDGI (S235 JR or EN 10025, ASTM570 G33)
2. Material thickness: 2.85-4mm, width: 482mm to 750mm
3. Main motor power for forming: 45kw
4. Forming speed: 12m/min
5. Hydraulic station power: 11 kw
6. Forming stands: 2 archs for 12 stands, 3 archs for 16 stands forming roller
7. Hydraulic pressure: 10-12 mpa
8. Controlling system: PLC
9. Total weight: about 39MTS
10. Voltage: 380V/ 3phase/ 50 Hz
11. Material of forming rollers: GCr15 bearing steel with quenched treatment
12. Material of cutter blade: Cr 12 mould steel with quenched treatment
Since 1990, our company has provided highway guardrail roll forming machine solutions to the building and construction, automotive, HVAC around the world. Our experienced team consistently develops leading highway guardrail roll former designing, manufacturing and selling. New innovations, and an unrelenting quest for increased efficiencies with the right roll forming designs, can make your company's manufacturing process a profitable one. If you need a building solution with our highway guardrail roll former, please contact us. 
Related Product
Tube Bending Machine
The automatic tube bending machine, also called tube bender tooling, is suitable to bend square tubes and round tubes. It can ...

Plate Bending Machine
This plate bending machine, also called plate bending rolls, is suitable to bend the flat colored steel sheet into arc shape sheet....