Cutting Machine
Features:
1. The cutting machine adopts double oil cylinder, four-column, and two standard cranks which connects rod mechanism. Therefore, the same cutting depth at every cutting position can guarantee the same cutting depth.
2. This machinery is equipped with special setting mechanism, die cutter and cutting depth setting, so the travel adjustment becomes simple and accurate.
3. The die cutter is contained by the stand of the pressing board, so that the cutting speed can be lowered. Therefore, there is no size error of cut materials between the uppermost layer and lowermost layer.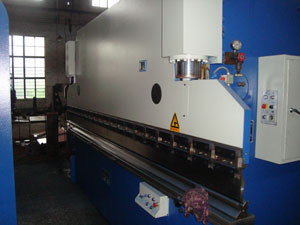 4. Lubricating function for automatic system is provided by the central oil station, which can improve the machine precision and prolong its service life.
5. Automatic equipment with easy operation and low malfunction allow using less labors.
6. This cutting machine has the feature of strong cutting power and high cutting speed.
7. This equipment has two handrails to ensure worker safety.
Components:
This cutting machine is made up of many other components as follows:
1. Hydraulic single-head decoiler: 1set
2. Guiding plate for feeding: 1set
3. Lateral register device 1pc
4. Cutting machine: 1pc
5. Batching-up device for waste selvage: 2pcs
6. Partition device: 1set
7. Expansion device: 1pc
8. Diverting roller and bed-plate for batching-up: 1set
9. Recoiler 1pc
10. Hydraulic pneumatic system: 1set
11. Altivar French automatic control system + Electric system: 1set
12. Distance piece for cutting knife and separated rubber ring: complete with cutting knife accordingly.
Application:
This cutting machine commonly apply to cut ordinary steel plates in many industries, including leather, rubber, plastic packing, textile and chemical fibre, and so on.
Technical Specification:
Materials: Cold rolled steel coils / Color-coated steel coils / Pre-coated steel coils
Thickness: 0.25—1.0mm
Width: Max100—1250mm
Line speed: Max 20m/min
Machine Size: 1700mm 1300mm 1200mm (Length Width Height)
No. of Cutting: Max 9 slits
Main Parameters:
1) Work material: cold rolling steel, colored coiled plate, acid picking coiled plate which δb<=450Mpa δs<=260MPa
2) Material thickness: s=0.40 - 2.5 mm
3) Original width: 500mm-1320mm
4) Cutting tolerance: width difference: +/-0.10 mm (when thickness 0.5-2.5mm);
5) Cutting error: linear 0.2 mm/m
6) Dividing burr: <=0.15×thickness
7) Cutting speed: 0-20m/min
8) Decoiler load: 10 Ton
9) Original coil inner diameter: dia.500-700mm
10) Original coil outside diameter: <=dia.1400mm
11) Product coil inner diameter: dia.600-800mm
12) Product coil outside diameter: dia.1400mm
13) Product coil load<=10 tone
14) Min. product width: 60mm
15) Cutting quantity: 0.4-1.0 mm thickness - 20 pcs.
1.5-2.5 mm thickness – 18-10 pcs.
Number of Cutting blade is 15 pcs. (Depend on customer requirement)
Material of Cutting blade: 9CrSi;
Hardness of blade: HRC58°-60°
16) Total power of motor: about 15, 2 KW
17) Total weight: 5.3 tone
18) Area needed: 20000x8500mm (length×width) (around)
Yingkou Changsheng Steel Structure Project Co.Ltd is a professional manufacturer and supplier of cutting machine in China. Apart from auxiliary equipment products, like multifunction window - door taping machine, color coated steel coils, etc. we also offer EPS - rock wool sandwich panel machine like C purlin roll forming machine, Z purlin roll forming machine etc; high pressure polyurethane insulation painting machine including low pressure polyurethane foam machine and high pressure polyurethane foam machine; k-span machine, like automatic building machine, ultimate building machine and arch style buildings forming machine. With good quality and affordable price, the products produced by our company has exported Germany, Holland, India, Indonesia, New Zealand, Syria, United Arab Emirates, Russia, Kuwait, South Africa, and Bangladesh.If you are interested in our products, please contact us for details.
Related Product
Slitting Machine
Having 16 years experience, China Changsheng has committed itself to designing and manufacturing slitting machine. This kind ...

Ridge Tile Forming Machine
The unlimited ridge tile forming machine is divided into two kinds of machine, including ridge capping forming machine and ...