Arch Building Forming Machine
Features:
1. The arch style buildings forming machine from Changsheng Company, is also called arch steel buildings. It has a better performance of durability, even under the harshest weather conditions (heavy snow, hurricanes, tornadoes or earthquake), it can withstand.
2. This building, completely fire resistance, is made of heaviest-gauge commercial steel. 
3.Easy operation allows simple bolt available.
4. All the engineering are designed by our rich experienced engineers and workers.
5. We provide best quality goods but only charge affordable price. 
6. Various applications are almost suitable in all the industries and daily life.
7. We can design and produce products in accordance with customers' requirements.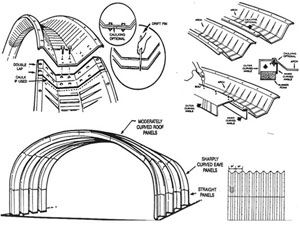 8. Professional service and good after service are available too.
Yingkou Changsheng Steel Structure Project Co.Ltd is a professional manufacturer and supplier of arch style buildings forming machine, in China. Apart from k-span machine, we also offer EPS - rock wool sandwich panel machine like C purlin roll forming machine, Z purlin roll forming machine etc; auxiliary equipment products like automatic tube bending machine, plate bending machine etc; high pressure polyurethane insulation painting machine including: low pressure polyurethane foam machine and high pressure polyurethane foam machine. With good quality and affordable price, the products produced by our company has exported Germany, Holland, India, Indonesia, New Zealand, Syria, United Arab Emirates, Russia, Kuwait, South Africa, and Bangladesh. If you are interested in our K-span Forming Machine, please contact us for details.  
Related Product
Sandwich Panel Forming Machine
The sandwich panel forming machine is made up of a roll forming machine and a sandwich panel laminating system which can work independently. ...

Purline Profile Roll Forming Machine
The C purlin roll forming machine uses pre-cutting, different from other shape roll forming machine. So it can be used for a longer time than after-cutting...